Sundukovy Sisters speak about
post pandemic hospitality design
June 18, 2020
Today Irina and Olga took part in online conference Arde-X and talked about post corona effects, trends and future predictions. Which rules will be reset in the #Horeca industry after the pandemic subsides?
We are sharing the key points from the talk. If you are a better listener than reader, feel free to watch the recording here.
Is Covid really a lifechanger or a temporary setback?
Obviously, the world has split into "before" and "after" the coronavirus, especially in the HoReCa industry, yet it is a bit early to predict whether the changes occurring now will be long-term or temporary.
Let us remember the Spanish flu. The fashion industry predicted then that flu veils would become a habitual part of our lives, fashion magazines published numerous sketches of trendy face coverings, attached to headdresses, but this, along with other precautionary measures subsided along with the flu.
Surely, another virus of this scale will change the HoReCa industry for good. Otherwise, it is a matter of time before things go back to normal, for the most part. Covid-19 influenced each and every one of us, but to our minds its effect will not be as significant as many people think.
Some post-covid design trends had already begun before the pandemic, which will simply accelerate them.
What are the changes that will occur though?
Let us first look at restaurants.
Multifunctionality and mobility
At S+S we always say that the main factor for any place to be successful is functional zoning and mobility, especially now.
More essential than ever will be flexible layouts, allowing to change the restaurant space to widen gaps between tables. Mobile partitions and screens will become key for dividing common areas into more private zones and adjust them to different occasions. Protective shields between neighboring tables and seating will also be a trend that will most likely stay with us for a while, so it is our job as designers to make them as sleek and discrete as possible.
This is one of our ongoing projects – a restaurant in the heart of Moscow. To ensure guests' safety, we designed discreet metallic partitions of stainless steel between the backs of soft seating. The color and material blend into the space concept, so as not to make patrons feel isolated and "cubed".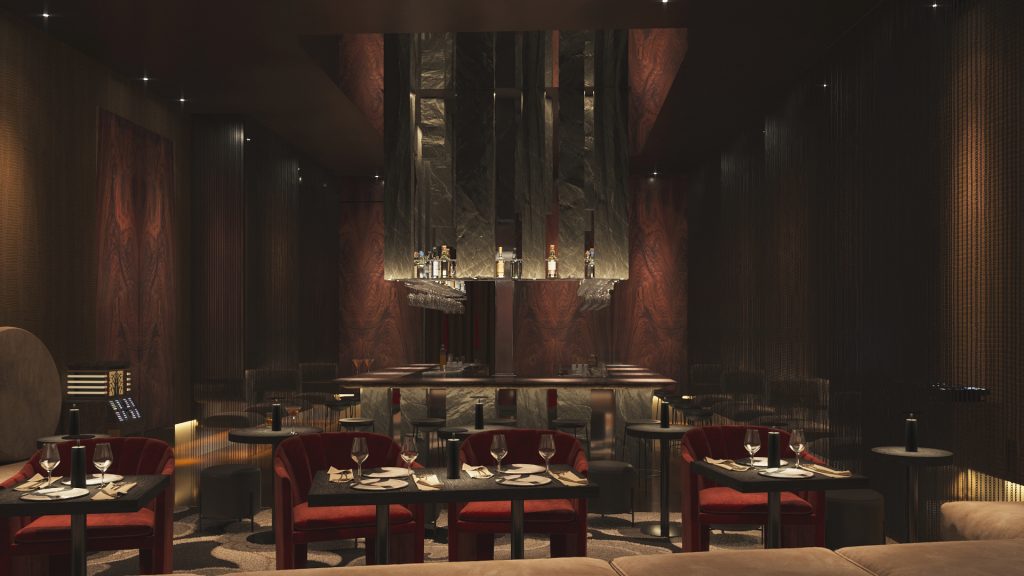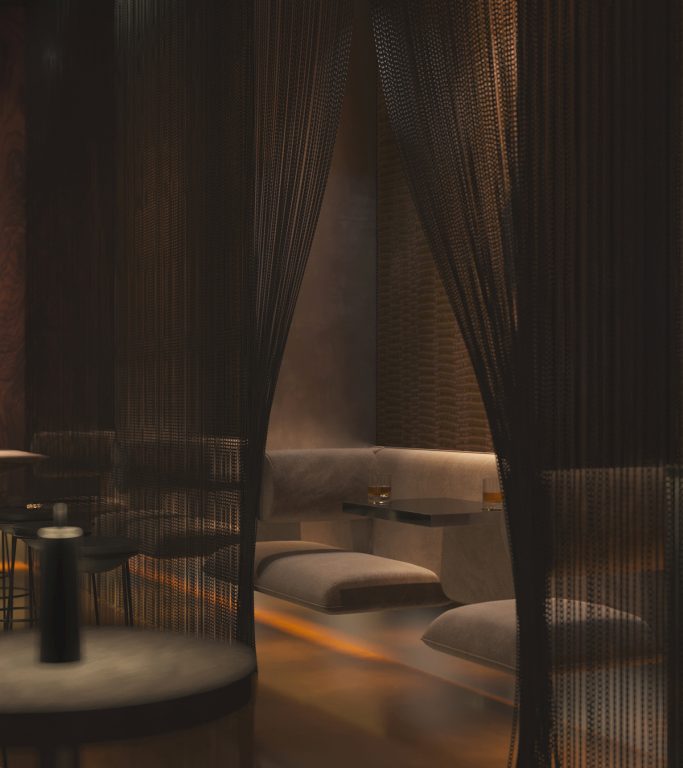 Surely, tight seating will become a thing of the past. Covid caught us while working on the design of Resto des Chefs for EquipHotel, an international trade show for the hospitality and foodservice sectors. The restaurant shows off world's leading chefs and is one of the prime locations of the exhibition, feeding thousands of people throughout the day.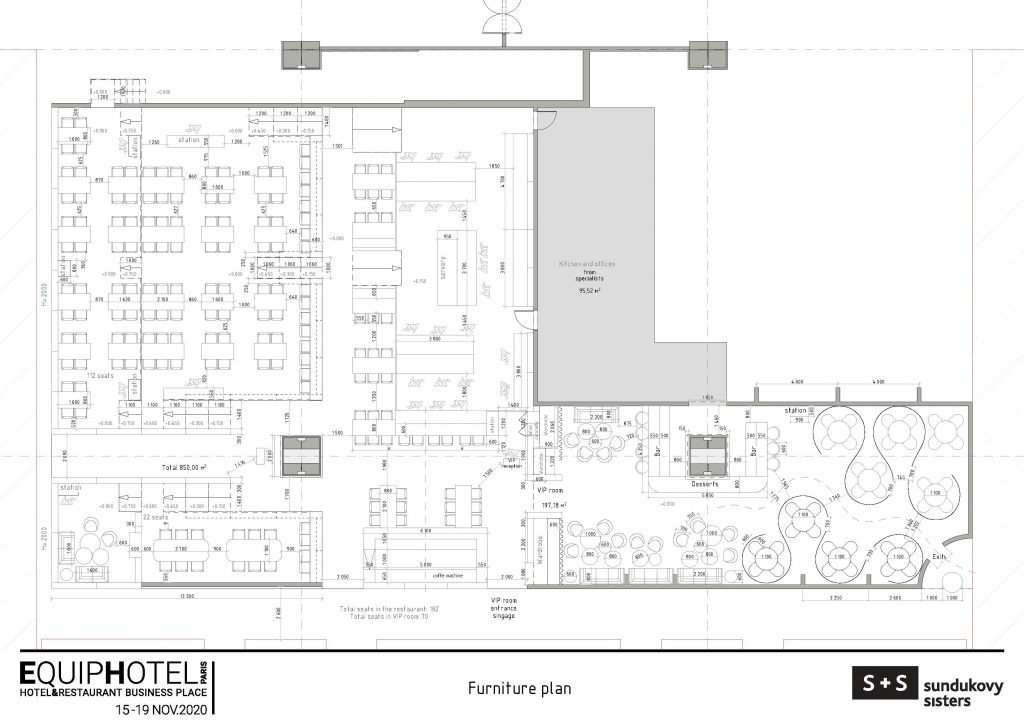 So here are the Covid-19 before and after layouts. We used to have podiums with two levels and guests faced the open kitchen, where chefs would prepare all sorts of culinary masterpieces. The kitchen turned out to be a stage, while the podiums were the audience hall. We also had vegetal-racks with greens, which guests could pick out and try themselves.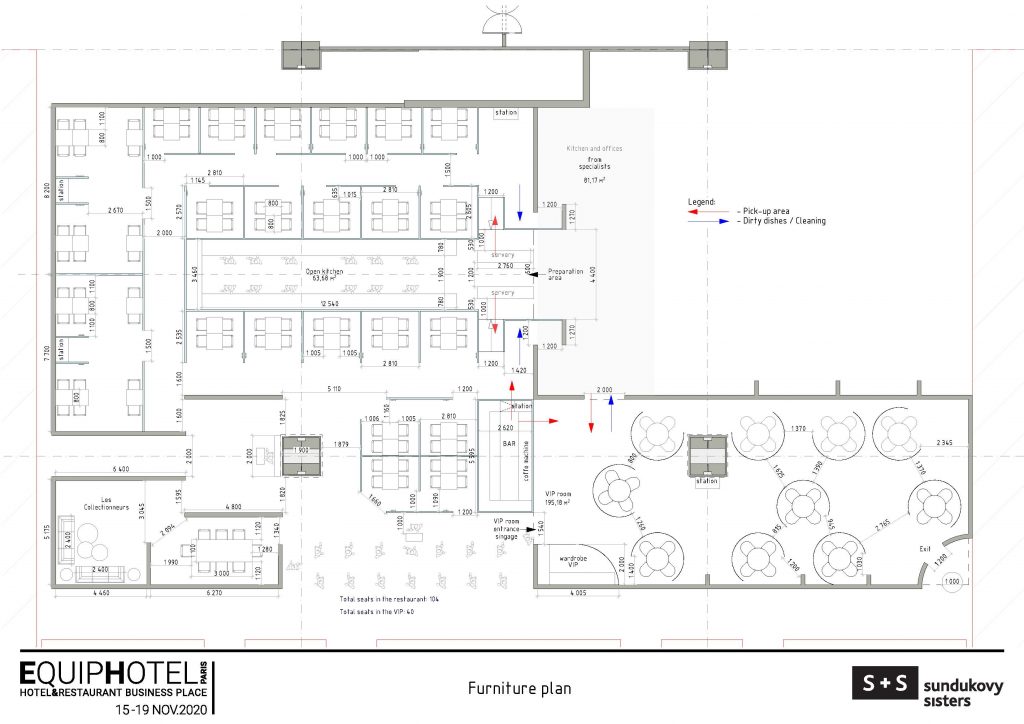 In the new reality, the kitchen could no longer be open, plus it was necessary to come up with a social distancing measure, because people could not sit close to each other. Therefore, we designed a glass-covered elongated kitchen and set up isolated "rooms" with glass partitions, so that guests could observe the cooking process.
We also added one more entrance, and also made a pocket (below) so that it would be possible to organize a safe queue with the necessary distance between people. At the same time, the queue did not get in the way of walking between the stands.
What about open kitchens?
Another trend, which brings dynamic into any restaurant, was questioned by coronavirus. We don't think that open kitchens will disappear, on the contrary, we might even see more of them after the pandemic, as they promote "transparency". They will, indeed, transform into semi-open, with a glass covering. This calls for new modern solutions that will allow guess to feel the mind-blowing smells of the food being cooked.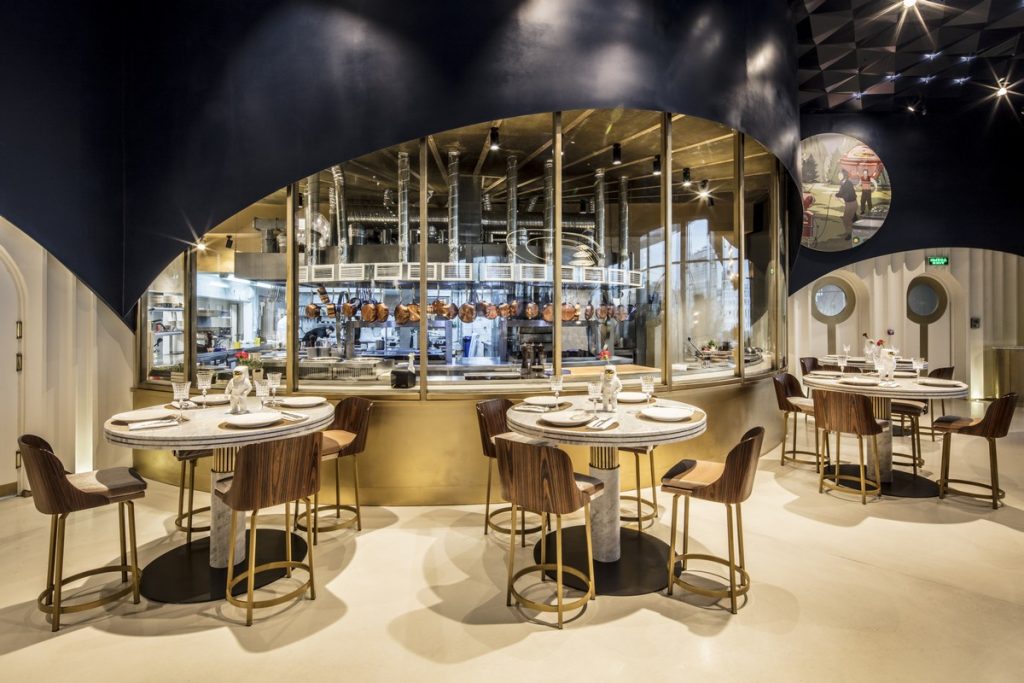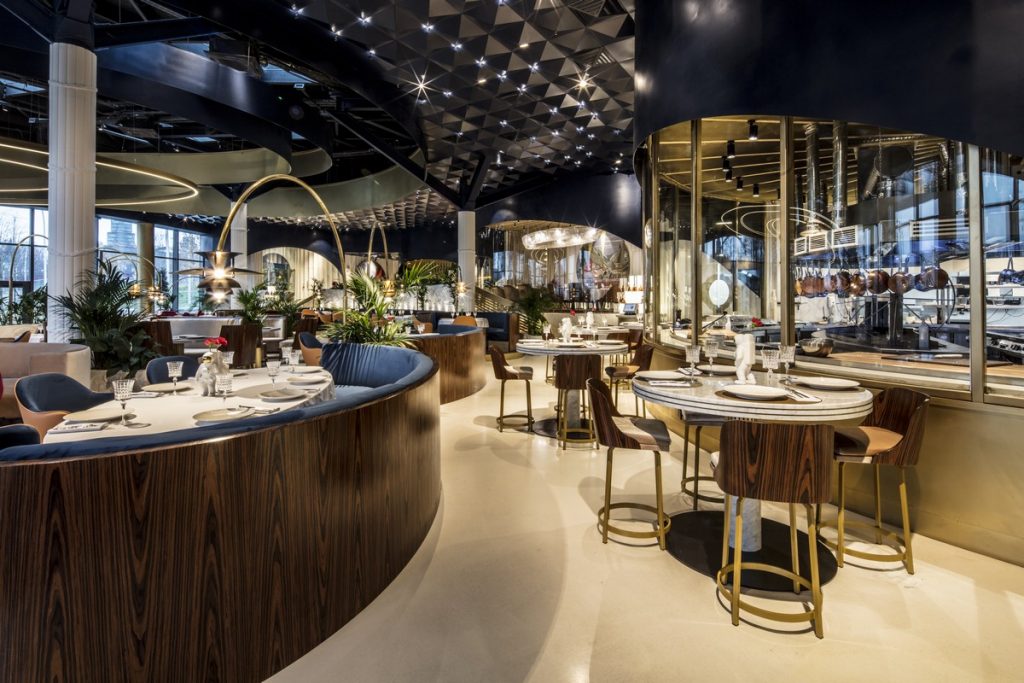 Outdoor Seating
Restaurants that are coming back to business today are showing a growing trend towards open-air seating. This is caused not only by an attempt to recapture lost business over the past months, but also by customers' growing interest in outdoor seating. It is more appealing than being in an enclosed space, where a virus can spread more easily.  In a recent survey by the online publication Slate, 36 percent of respondents said they would eat at a restaurant outdoors, while only 15 percent said they would eat at a restaurant indoors with reduced seating. So, outdoor seating and use of roofs, patios and terraces will be a growing tendency during the next year at least. Right now, some restaurants which don't have private outdoor space, are setting up tables on sidewalks, streets and public plazas. In France even on-street parking spots are being used for impromptu seating areas known as parklets or streateries.
This brings us to our next point.
New Experience – another trend that will bloom over the next years.
During lockdown most of us realized that going out to eat is less about food but more about the atmosphere, the impressions and the experience we receive in a place. There will be fewer people dining out and they will be doing it less often, on special occasions and on holidays. Therefore, restaurants which offer a unique, original interior and experience will be more popular. That is why now is such an exciting time for us, interior designers, when we can push the limit of our imagination and creativity to bring guests a completely new experience through design.
At the same time, minimalism and simplicity will have more value. Intricately carved wooden furniture and ornamentation that looks beautiful but collects dangerous microbes will give way to surfaces built or clad in anti-microbial materials.
Coronavirus means death of buffets.
Now this is one of the long-term impacts for restaurants and hotels. For obvious reasons, buffets and other sharing-style food concepts cannot survive in their present form. This means breakfasts à la carte in hotels, and the reason why we predict this trend is a keeper, is that it is well in line with a blooming global ecologic awareness. With buffets out of the picture, the excess waste of food will decrease.
In European restaurants, people have started bringing their own containers for take-out food more than before, which is also a big plus for ecology and plastic waste. Restaurants and hotels have entered the struggle to protect nature years ago, and the tendency will only intensify.
Other elements that we will not see in restaurants for a while are community tables, service at the bar and, perhaps, wardrobes. Guests will have to look after their own jackets or leave them in their cars.
Increased automation and contactless everything will be a given.
Many restaurants already use QR codes, so customers can decide on their meal via smartphone, rather than passing a menu from table to table, thus avoiding contact.
Hotels will also witness some changes.
Increased use of contactless technology has already been growing in the past years and will be sped up by the pandemic.
Switching on the light, calling an elevator and adjust the temperature in your hotel room at a distance via an app on your smartphone will become a natural thing. In one of our Novotel rooms we used sensors that change the light temperature and can produce either warm light (yellow/orange) or cold (blue/white). You can see this in the video.
These were rarely used before, they make it possible to change lighting scenarios. The mood of the room changes, depending on warm or cold light, and the surrounding colors of the interior play out differently in different light. They also change the brightness of the light (from brighter to soft lighting, and vice versa).
So guests can see the whole spectrum of light and choose the one they like the most, which is most comfortable for them, or change the light according to their mood. This is just one example of how technology will progress to make guests' stay more comfortable.
The places that will see the most changes, perhaps, will be the public bathrooms. Customers will rarely, if ever, touch a tap, soap dispenser or hand dryer again. Toilet flushes, soap and water dispensers, hand dryers and even cubicle doors will use motion detectors.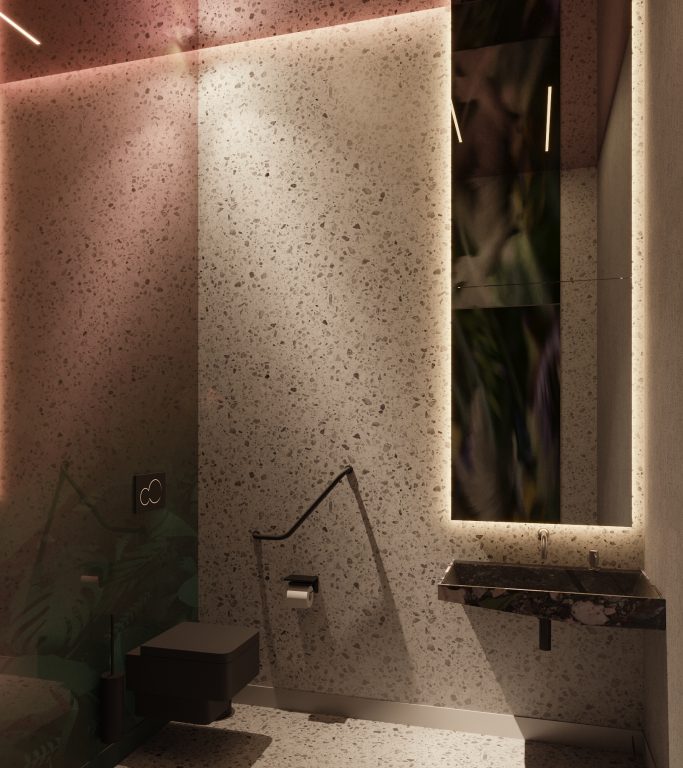 This is a public washroom in our design of MGallery Nairobi, and you can see the infrared sensors on the taps.
All this technology already exists, it's simply a case of using it. For the doors, architects will have to think through a buffer zone, that will ensure that guests already inside the washroom are not bothered by the sensor. The doors to cubicles themselves will be opened and closed by foot.
Most modern hotels will include apartments, due to the fact that business trips will become less frequent.
This trend had already begun and will increase in the coming years.
These, for instance, are apartments we designed as a separate concept yet within the DNA of the Novotel brand. They are meant for a long-term stay with all the necessary features of an apartment within a hotel. Homelike feeling, functional space zoning, extra storage space and other design solutions that allow guests to feel like they are home away from home.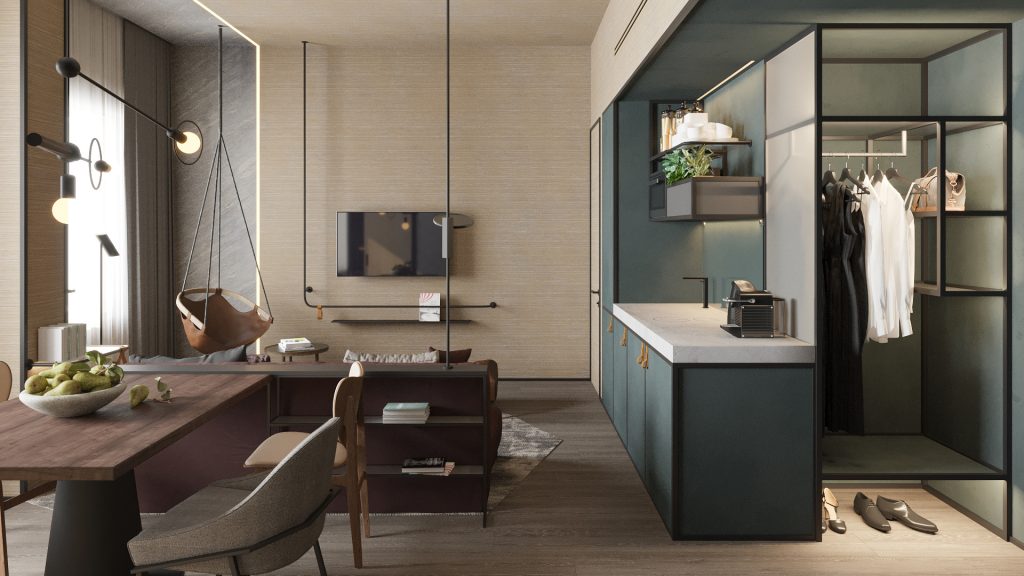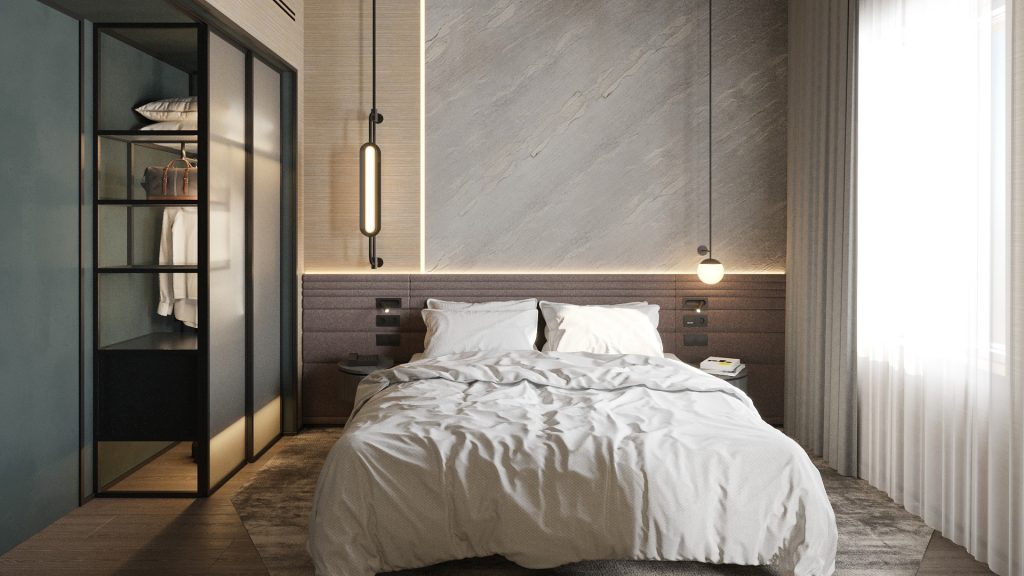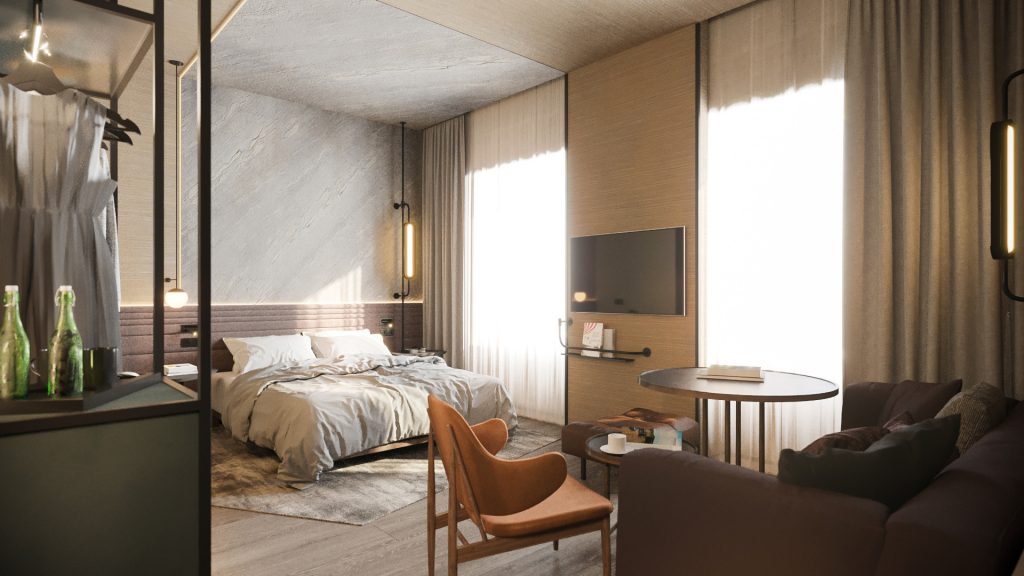 Frankly speaking, it seems in the near future that people are more likely to spend money on private apartments rather than hotels. And the lockdown experience will cause people to think about additional area for office spaces within apartments. The view from the window will be of crucial importance, obviously.
Last, but not least, a new branch of hotels known as "glampings" may bloom. Limited by travel restrictions and forced to travel inside the country for the summer, people will seek new experience from temporary homes during their journeys. Easily mountable summer homes, distant from one another and not exceeding 6-8 per hotel, glampings are bound to be this summer's hit, offering travelers a unique local experience.
Our job as designers is to use this time as an opportunity to deliver innovative, bold and creative solutions in line with this exciting, rapidly changing reality.
Thank you.